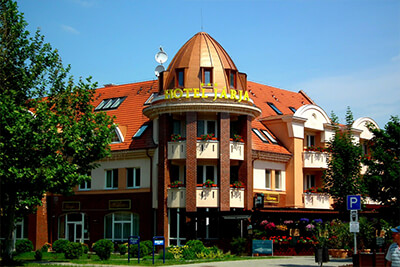 Hotel Járja
The Hotel Járja is the perfect place to stay for those who want to be close to the spa and Aqua Palace. With 6 apartments and 14 air-conditioned rooms, we can accommodate a variety of needs. Whether you're looking for a single room or a larger space for your group, we've got you covered.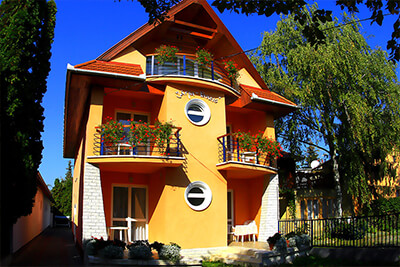 Járja Panzió
We are pleased to offer our guests a comfortable and relaxing stay at our pension in Hajdúszoboszló. Our rooms are air-conditioned and we offer a variety of room types to accommodate your needs. Our location is convenient, just a few minutes' walk from the city spa and the resort area.
Welcome to the website of Hotel Járja and Pension!
Hotel Járja is located next to the spa and Aqua Palace, with 6 apartments and 14 air-conditioned rooms. The rooms are accessible by lift from the underground garage, and parking is free of charge in the indoor garage. Hotel Járja's restaurant offers Hungarian cuisine, live music, and a family-friendly atmosphere. In the wellness part of the building, you'll find an infra and Finnish sauna, fitness machines and ceragem massage bed, as well as a unique atmosphere in the hot tub in the dome. Health treatments subsidized by the health insurance can be used at a discounted rate directly in the city spa next to our hotel.
Our pension is located in the resort area of Hajdúszoboszló, on Bánomkerti Street, 1,000 metres from the city spa and 600 metres from the Béke spa. It has 7 double rooms and 2 triple rooms. All rooms are air-conditioned and have a shower, TV and fridge. There is a fully equipped kitchen on the ground floor. Breakfast is not included in our basic rates but is available on request. Meals can be enjoyed in our nearby restaurant, located in the Hotel Járja, where we welcome our guests every evening with live music. Our guesthouse and accommodation offers free parking and WiFi access.
Best price guaranteed!
Book directly through our website to get the best price!
Hajdúszoboszló
Our hotel, Hotel Járja in Hajdúszoboszló, offers both types of relaxation: active and passive. So no matter what you're looking for, we've got you covered. Come and relax with us!
Quick data collection on arrival. Friendly smiling staff. Delicious, varied, fresh breakfast. Spotlessly clean room. The bed is large and comfortable…
Spacious rooms, good location, friendly staff, delicious and plentiful dinner, 3 minutes walk to the Aqua Palace.
The rooms are spacious with comfortable beds. Close to everything. Very good breakfast. Underground parking is included in the hotel.
The breakfast was delicious and the staff were very nice and the free use of the parking and the wellness area was a big plus.
Thank you for the experience!